DESCARGA AQUI LOS PROGRAMAS EMITIDOS:
( si deseas "bajar" algún programa y tiene problemas de descarga, infórmanos a info@sektor4.org )

[EN LA WEB DE SENDSPACE PULSA SOBRE:

Download Link: xxxxxxxxxx.mp3]
---
DESCARGA/DOWNLOAD GRATIS

SEKTOR IV EN DIRECTO 09/04/2010


novedades, temas del recuerdo, noticias, conciertos, etc.
CON TECH NOMADER & AWILUM - old school ebm


Y
BIKINI INVADERS (TF) & LETHARGY (TF&BCN)



16 y 17 de abril de 2010

---
DESCARGA GRATIS

EN HONOR A EDGAR (AMDUSCIA) - D.E.P.
reemitimos una sesión antigua especial y exclusiva para SEKTOR IV que nos realizó su hermano Polo
DJ POLO SET PARA SEKTOR IV (desde México)


Playlist:
AMTRUM - My fall, ASLAN FACTION - Soul destruction, COMBICHRIST - Get your body beat, AGONOIZE - Sacrifice, AMDUSCIA - Dead or alive, CENTHRON - Gottwerk, STRAFTANZ - Straftanz (Reaper mix), LAIBACH - Tanz mit Laibach, FEINDFLUG - Grössenwahn, HEIMATAERDE - Deus lo vult, COMBICHRIST - Like to thanks my buddies, TACTICAL SEKT – Xfixiation (S.I.T.D. mix), CENTHRON - Gleichschritt, TACTICAL SEKT - Awake in the ghost, PSYCLON NINE - Divine infekt, COMBICHRIST - Today I woke to the rain of blood, DULCE LIQUIDO - Disolucion, AGONOIZE - Chains of love, AMDUSCIA - Absolution, TACTICAL SEKT - Not entertaiment, BRUDERSCHAFT - Harlem (hardstyle remix), APOPTIGMA BERZEK - Kathy´s song, VIRTUAL EMBRACE - Dementia
aprox. 95min.
---
DESCARGA/DOWNLOAD GRATIS

SEKTOR IV EN DIRECTO
emitido el viernes 26/03/2010
REDIFUSIONES: sábado 24:00h gmt y domingo 24:00h gmt+1


links:

CON PS-GIRL, DAVID RAMOS, OBRERO MUTANTE, VRIL, NAUJ, CRISTINA & MANU (LINE)
Comentamos el concierto de RECOIL & NITZER EBB.
Hablamos de la ZONKIE PARTY y las actuaciones de
PS-GIRL & VRIL.
Dimos a conocer a l@s TRES ganadores del concurso de
la banda sonora del corto: EL MONSTRUO DEL SEBADAL
Cyntia (Brasil), Alberto (Madrid) y Carlos (Tenerife)
NOVEDADES MUSICALES, TEMAS DEL RECUERDO, NOTICIAS, CONCIERTOS,...
muestras de: das ich, de/vision, grossstadtgeflüster, iamx, mind in a box, etc.
---
DESCARGA/DOWNLOAD GRATIS
part 01:
part 02:
part 03:

THE MANVILLE WEEKEND

Dj Led Manville presents: Live In Madrid - Dominion Dark Rave
Recorded live January 30th 2010 @ Dominion Club (Madrid - Spain)

| | | |
| --- | --- | --- |
| 05/03/2010 - 21:00h gmt/utc - PART 01 | 06/03/2010 - 24:00h gmt/utc - PART 02 | 07/03/2010 - 24:00h gmt/utc - PART 03 |
| | | |
| | | |
---
SEKTOR IV DIRECTO - 12/02/2010
Temas de: ABSURD MINDS, SUICIDE COMMANDO, ENGELMACHER, LETHARGY, NACHTMAHR, SIGNAL AOUT 42, NITZER EBB, ROOT 4, STATE OF THE UNION, FALCO, DAWNFINE, STATE OF THE UNION,...
HABLAMOS DE:

---
ESPECIAL GRUPOS CANARIOS 1984-2005
MEZCLAS AUDIO: SEKTOR IV AGRADECIMIENTOS: [N:S:K]
(DURACIÓN APROX.: 85 MINUTOS)

Sobre ésta sesión: Desde comienzos de los años ochenta unos cuantos incomprendidos seguidores de la nueva música electrónica procedente en gran parte de Europa y Canadá, se arriesgaron a formar grupos con esos mismos conceptos musicales en Canarias, yendo en contra de lo que en esa época era considerado "políticamente correcto". Algunos de estos grupos han dejado huella y actualmente son reconocidos como pioneros en nuestro pequeño archipiélago; incluso se puede decir que son "atemporales" y no han perdido "frescura".

Aparte de ser un pequeño homenaje y tributo a tiempos pasados, esta sesión está dedicada a todas las nuevas formaciones, que tienen muchísimo que aportar y enseñar...
POR MOTIVOS DE ESPACIO/TIEMPO NO ESTÁN TODOS LOS QUE FUERON Y SON, PERO SI SON MUCHOS DE LOS QUE ESTUVIERON Y ESTÁN...
* NOTA ACLARATORIA: Hay temas que proceden de maquetas grabadas de forma casera en cintas de cassette de la época. Por ello queremos disculpar la baja calidad de audio de algunas canciones, pero dada su importancia y originalidad, decidimos incluirlas en esta selección, filtrando digitalmente las mayores imperfecciones, ocasionando leves pérdidas de frecuencias medias.
ESPECIAL GRUPOS CANARIOS 1984-2005

---
THE HUMAN MIX (a tribute to The Human League)
UN RECORRIDO POR LA PRIMERA ÉPOCA DE UNO DE LOS GRUPOS MÁS IMPORTANTES Y REPRESENTATIVOS DEL SONIDO TECHNO-POP
INCLUYE ALGUNOS TEMAS INÉDITOS
(para entender el presente hay que conocer el pasado...)
aprox. 90min. - selected & mixed by sEktOr4
PLAYLIST: the black hit of space - darkness (dodi's intro) - being boiled - the word before last - circus of death - hard times - don't you know i want you - human (extended) - dreams of leaving - darkness - the dignity of labour (part3) - i am the law - love action - don't you want me - do or die - the things that dreams are made of (richard stone dub mix) - life kills - the lebanon - seconds - empire state human - blind youth - dancevision - crow and a baby - interface.
THE HUMAN MIX (a tribute to The Human League)

---
SEKTOR IV DIRECTO - 22/01/2010
DJ LED MANVILLE - TAMGO - BIKINI INVADERS - DAVID RAMOS


novedades de Mesh, Covenant, Destroy, Lethargy, Robert Dope, Topgun, Electrovot,... noticias y temas del recuerdo.
---
LIVE IN GERMANY - KULTKELLER 2009
DJ LED MANVILLE

01 Kultkeller presents Led Manville - Led Intro (FCMP-Demon dance) - 02 State Of The Union - Dancing in the Dark (Led Manville Club remix) - 03 Push - The Legacy - 04 Front 242 - Headhunter 2000 (APB mix) - 05 Apoptygma Berzerk - Suffer In Silence (Icon Of Coil Remix) - 06 IAMX - Nightlife (People Theatre's Trip To Berlin mix) - 07 VNV Nation - Epicentre - 08 Depeche Mode - World In My Eyes (Cicada remix) - 09 Icon Of Coil - Dead Enough For Life - 10 Assemblage 23 - Document (Schreibgeschuetzt Mix) - 11 Soman - Absolution - 12 And One - So Klingt Liebe (E-mix) - 13 Motor - Bleep 1 (Extended version) - 14 Spetsnaz - On The Edge (Werklous remix) - 15 Leaether Strip - Leaether Strip Part II 07 - 16 Carlos Peron - Der Komtur (Combichrist Remix) - 17 32crash - Lone Ranger (Sebastian R. Komor mix) - 18 Legacy Of Music - Serenade Of Death - 19 Covenant - Call The Ships To Port (Thomas P. Heckmann remix) - 20 D10 - No Love (Original Instrumental mix) - 21 Vnv Nation - The Farthest Star - 22 Patenbrigade: Wolff - Demokratischer Sektor (Pvd Club mix) - 23 Rotersand - Lost (12 Inch version) - 24 Fusspils 11 - Seelenlos - 25 Stahlnebel vs Black Selket - Deadly Perception (Instr.version) - 26 Cryo - Does It Hurt - 27 Tactical Sekt - Bring Me Violence - 28 Implant - Murderous Thoughts (Negative Format) - 29 Dead Or Alive - You Spin Me Round 2003 (Marc Moore Remix) - 30 Kraftwerk - Aerodynamik (Facu Cruz Intro rmx) - 31 Angels And Agony - Lethargy - 32 Gasr - Heavy (Weight Restriction mix By Interface) - 33 Nachtmahr - Klingen - 34 Hocico - Fed Up - 35 Industriegebiet - Sex Mit Einer Leiche (Soman mix) - 36 Icon Of Coil - Former Self (v.1.0) - 37 Funker Vogt - Final Thrill (Survivor version) - 38 Nachtmahr - Tanzdiktator - 39 Underwolrd - Born Slippy Nuxx (Paul Oakenfold mix) - 40 Seabound - The Promise (Covenant mix) - 41 Colony 5 - Knives (Schallfaktor remix) - 42 Noisuf-X - Halluzinogen - 43 Sebastian Komor - Das Oontz - 44 Straftanz - Straftanz (Nord) - 45 Nitzer Ebb - Let Your Body Learn (Terence Fixmer remix 2006) - 46 The Human League - Love Me Medly (The Voice Of Buddha remix) - 47 Muscle And Hate - Let Your Body Learn
aprox. total playing time: 157:08 min.
DJ LED MANVILLE - LIVE IN GERMANY

PARA DESCARGAR VERSIÓN ORIGINAL EN 2CDs CONTACTAR CON: Ledmanville
---
PRIMER SEKTOR IV DIRECTO DE 2010

música, noticias, temas del recuerdo & novedades...
entre otros: ionic vision, aesthetic perfection, megabeat, patenbrigade: wolff, spetsnaz, larva, oil 10, the human league,...
---
FOR ALL NEW AND OLD YEARS MIX 2009
BY DJ TERROR

playlist: GRAFTON PRIMARY - all stars, TAMGO - new position, SIMIAN MOBILE DISCO - 1000 horses can't be wrong, LIQUID DIVINE - frontend, C/A/T - number 6, STEINKIND - larissa (pueppies), KRYSTAL SYSTEM - i love my chains (voodoonight version), ARMAGEDDON DILDOS - in my mind, DIE KRUPPS - fuer ein augenblick (live in belgien), DUPONT - entering the ice age, LA DELGADA TORRE - fool as a slave, KIRLIAN CAMERA - eclipse (anniversary version)
playtime: aprox. 49min.
For All New and Old Years MIX 2009

---
DARK CHRISTMAS MIX 2009

SELECTED & MIXED BY sEktOr4
KLYXN - mayikem, HAUJOBB - eye over you, ULTRAVIOLET - crash, COLONY 5 - absolute religion, S.V.D. - 21st century mind, B!MACHINE - victim, THE FORCE DIMENSION - x-tension, PATENBRIGADE:WOLFF - popmusik für rohrleger, F.Y.L. - no future, PS-GIRL - structural plasticity, AESTHETIC PERFECTION - living the wasted (machineries mix), DEPECHE MODE - fragile tension (stephen bodzin remix), FADERHEAD - horizon born (electric paradise club edit), URCEUS EXIT - the worst that we've become, LE SABOTEUR - hijacked, INFORMATION SOCIETY - back in the day (paul robb roots electro mix), LEFT SPINE DOWN - last daze (led manville remix!), TAMGO - house died, SANTA HATES YOU - the bonus 1.0, PATENBRIGADE:WOLFF - luftzerlegungsanlage lza, ELITE 31 - shine (depeche mode lounge cover).
---
ÚLTIMO SEKTOR IV DIRECTO DEL AÑO 2009


F.Y.L.-ALBERT CODE-TAMGO-LINE-DAVID RAMOS
+ PRESENTACIÓN EN PRIMICIA DE LA SUITE DEL CORTO "EL MONSTRUO DEL SEBADAL"
+ NOTICIAS, NOVEDADES Y SORPRESAS... realizando: Jorge
---
NITZER EBB Retrospective MIX 2009



playlist: kick it (popular music mix) - out of mind (maitresse mix) - come alive - i give to you - ascend (remix) - warsaw ghetto - backlash (william orbit mix) - captivate (william orbit mix) - lighting man - getting closer - shame - fun to be had - i thought (final sin) - hearts and mind - family man - shame (mix two) - hearts and mind (mix hypersonic) - join in the chant - control i'm here (strategic dancefloor initiative mix) - let your body learn - murderous - i thought - godhead - lakeside drive (remix) - isnt't it funny how your body works - total length: aprox. 111 min.

NITZER EBB - Retrospective MIX 2009

---
FEM Records - MIX Compilation 2009
playlist: MARGARET NOBLE - nufon, KLYXN (1986-2009) - hemarre, SADORE - happy little medium, DEFORM - ment, JEZIKA - dancing with death, PSGIRL - computers, FEAR OF SYMMETRY - potemkin 9, EDEN GREY - dimentia.
MIX del primer CD recopilatorio de Fem Records, que incluye un tema de cada una de las artistas del sello. Todos los beneficios derivados de la venta del CD original serán donados a Expanding Your Horizons Network (Red "Expandiendo Tus Horizontes"), una organización sin ánimo de lucro cuya misión es animar a las mujeres jóvenes a orientar sus carreras hacia la ciencia, tecnología, ingeniería y matemáticas. La referencia incluye ocho temas de música electrónica instrumental que cubren el espectro del IDM, down-tempo, electro, glitch y ambient, entre otros estilos. Duración total del mix: aprox. 32,28 min. para más información: http://femrecords.com
---
ESPECIAL E.B.M. MIX 2009
selected & mixed by Obrero Mutante & sEktOr4:

(old school, german style, aggrotech,...)
playlist: HEINO - alte kameraden, JAEGER 90 - drischne skasal, SPETSNAZ - freedom, DARKMEN - accept the pain, TECH NOMADER - elite del bar, SPARK! - ett lejon i dig, KROPP - inget namn, ADAC 8286 - agressive man (bofetada mix), IONIC VISION - deceit, E-CRAFT - leid tier, EKOBROTTSMYNDIGHETEN - dansa nu da, tomtejävel!, SEQUENZ E - warum, TECH NOMADER - arponero, JÄGER 90 - der verzicht, SIGNAL AOUT 42 - langemark, AD:KEY - lass mich los, AGREZZIOR - what about you, DAF - der sheriff (c90 version), CONTAINER 90 - don't give a fuck, CALVA Y NADA - sigueme, STURM CAFE - der löwe ist zurück, KLOQ - lucky star, VOID KAMPF - regula taciturnatis, VOID KAMPF - pressure, ELITE! - maschinen - aprox. 82 min.
---
ESPECIAL E.B.M. - electric tremor
Contactamos con Jordi & Tommi de TECH-NOMADER (BCN)
hablamos del E.B.M. actual y un poco de su historia



TECH NOMADER (BCN) & ELECTRIC-TREMOR (D)
... y como siempre con otras novedades, temas del recuerdo, noticias, etc. con el equipo habitual del programa...
directo 20/11/2009

---
MELODISCHE NOISE MUSIK MIX 2009
selected & mixed by sEktOr4 - playlist (aprox. 80min.):
KRAFTWERK - uranium, CERVELLO ELETTRONICO - polarity, XMH - follow orders, OIL 10 - lost in metropolis, KLOQ - film 1, KRAFTWERK - news, SASI - alexanderplatz, SPECTRA PARIS - cheeky alien dream, C/A/T - we are still alive, ACCESS TO ARASAKA - monoscan, HEIMSTATT YIPOTASH - dark rhythm noise anthem 2k6, HOCICO - stop my madness, THE KNIFE - silent shout, ELLEN ALLIEN - stadtkind, SEABOUND - traitor (extended), CLAN OF XYMOX - stranger, DETRITUS - haunted (remix), VITALIC - repair machines, SNOG - the last days of rome (remix), TRANS ACTIVE NIGHTZONE - she's lost control. playtime aprox. 80min. - selected & mixed by sEktOr4.
---

SEKTOR IV - DIRECTO 07/11/2009
Temas de: Anne Clark, Clan of Xymox, Empusae, Diffuzion, Faderhead, Eisbrecher, File not found, Kraftwerk, Spark!, Rammstein, Virtual Victim, Solitary Experiments, X-Fusion, Velvet Acid Christ, Left Spine Down (remixed by Led Manville), Armageddon Dildos, Rotschild,...

CONTACTAMOS CON SILVIA (PS-GIRL) DESDE ULL-ROCK 09
NOVEDADES, TEMAS DEL RECUERDO, NOTICIAS, ETC...
EN EL ESTUDIO CON PABLO (OBRERO MUTANTE) & JORGE
---
HALLOWEEN MIX 2009

selected & mixed by sEktOr4 - playlist (aprox. 80min.):
CRYO - freedom, ELECTROVÖT - the one (red flag remix), MIND IN A BOX - what used to be (peter rainmans mix), FILE NOT FOUND - bestätigung, ROTSCHILD - mossad mossad, ÜBERBYTE - sertraline, AM INC - feuchte hosen (sitd remix), AMDUSCIA - sólo máquina, SOLITARY EXPERIMENT - delight, SOMAN - hear the noise, ODIO 84 - no trust, AESTHETIC PERFECTION - the siren (led manville remix), BLACK HEAVEN - etwas, ARMAGEDDON DILDOS - never mind (xer/krid mix), ROTERSAND - waiting to be born, UNHEILIG - ich will alles (elektronic club mix), TOPGUN - eine kleine nachtmusik, STUDIO-X - electro body music.
---
SEKTOR IV - DIRECTO 23/10/2009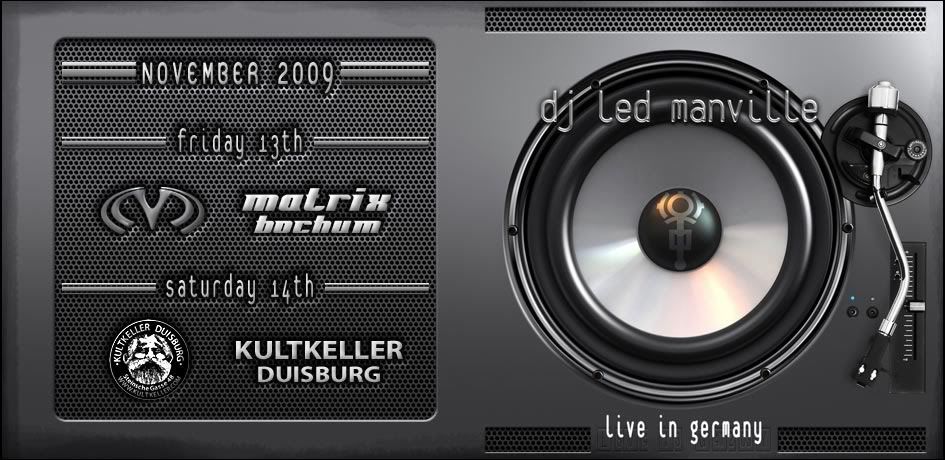 hablamos con DJ LED MANVILLE de sus próximos dos directos en Alemania (Bochum y Duisburg)
ESTRENAMOS LOS TEMAS "THE LIGHT" DE LA DELGADA TORRE & "RV-41" DE PS-GIRL
en el estudio el equipo habitual del programa novedades, temas del recuerdo y noticias...
---
acoustiCHIP MIX selected & mixed by sEktOr4
OBERER TOTPUNKT - sie sind da, YENDRI - the love cats (the cure cover), BLACK PIMPF - frozen, LA DELGADA TORRE - fool as a slave, OBLIQUE - living in my head (the cathedral version), LADYTRON - destroy everything you touch, AGONOIZE - i am (version), EXPERIMENT HAYWIRE - game called life (leaetherstrip mix), ASSEMBLAGE 23 - helicopter girl, AND ONE - teufel oder engel, AESTHETIC PERFECTION - living the wasted life (machinery mix), ASSEMBLAGE 23 - collapse, SIN.THETIC SQUAD - rise and fall, SARA NOXX - colder and colder (seabound version), FGFC820 - anthem (steinkind remix), BLACK HEAVEN - end of the world (alternative), NIKONN - sparks, THE HUMAN LEAGUE - tell me when (utah saints mix), NOIR DU'SOLEIL - close moi augen (minimal), FROZEN PLASMA - tanz die revolution (international), ASCII DISKO - tonite, TOPGUN - off the record, AMDUSCIA - solo maquina, PROJECT PITCHFORK - feel (axxl e mix), SOMAN - hear the noise, VNV NATION - art of conflict, CULTURE KULTÜR - engel, YELLO - bostich (reflected), Z-PROCHEK - one day (vigilante mix), PRISTINA - so alive (nevarakka mix).
total playing aprox. 132min.
---
SEKTOR IV - DIRECTO 09/10/2009
Contactamos en directo con
Obrero Mutante & Martin - desde Vitoria Gasteiz durante el SPKTRO FEST 2009

nuevo trabajo de PS-Girl: RV-41
novedades y temas de: and one, assemblage 23, depeche mode, oblique, la delgada torre, experiment haywire, noil du'soleil, etc...
---
SEKTOR IV - DIRECTO 02/10/2009
A PETICIÓN DE MUCHOS OYENTES Y CELEBRANDO LA VUELTA DE DEPENDENT RECORDS RECORDAMOS LA ENTREVISTA REALIZADA A STEFAN HERWIG - MÁS DE DOS AÑOS DESPUÉS MANTIENE TOTALMENTE SU VIGENCIA Y ACTUALIDAD... STEFAN HERWIG EN SEKTOR IV
(entrevistado por DJ TERROR en Leipzig - 15/06/2007)
DIRECTOR DE DEPENDENT RECORDS
PRODUCTOR MUSICAL
"INVENTOR" DEL "FUTURE POP"
SUICIDE COMMANDO, SEABOUND, ROTERSAND, STROMKERN, AUTOAGGRESSION, STRAFTANZ, DIOXYDE, PRIDE AND FALL, MIND IN A BOX, VNV-NATION,...
---

CAMPUS ELECTRO MIX 2009
selected & mixed by sEktOr4
OBLIQUE - living in my head (the cathedral reworked), INFORMATIK - the end, MUSE - uprising, ACID MILCH UND HONIG - was ich seh, KILOWATTS & VANEK - solar flare, ANTILLES - you and me, MESH - so important, SILICA GEL - electrico, PUNTO OMEGA - el ojo (funker vogt remix), DUPONT - n.a.s.a., LAIBACH - das spiel ist aus (ouroborots mix), CELLULOIDE - audio theraphy, MECHANICAL CABARET - lets go to bed (the cure version), P24 - zu weit weg, CLAIRE VOYANT - shine, TENEK - no more time for fighting, SCARLET SOHO - modern radio, AVIADOR DRO - nuclear si (live version radio3). TOTAL aprox. 80min.
---
SEKTOR IV - DIRECTO 02/10/2009
Contactamos con:
Juan Carlos (Concurso ARENA DIGITAL)
Nekros (N.S.K. - Fiesta y Concierto DREAMSPIRAL)
Joseba Franco (ESPACIO ENTER) + Espacio 41
presentamos temas exclusivos de:
Haujobb, Mind in a Box, KiloWatts & Vanek,...
novedades de: Clan of Xymox, Muse, Celluloide, Dupont, etc.
recordamos a Aviador Dro, Vocoder, etc.
hablamos de Electro-Aggression Records (Canada) y hablamos de la reapertura de DEPENDENT RECORDS. en el estudio: David Ramos, Martin & Jorge.
---
TERROR KIDS MIX by DJ Terror
PLAYLIST (aprox. 40 min.):
TAKHTAHK - playground, CLIENT - can you feel (j.hulkkonen remix), KIKO - 30.1, WUMPSCUT - the boo (short instr.edit), DIE PERLEN - augen der grossstadt, QEK JUNIOR - kurz und schmerzlos, CELLULOIDE - translation of love, THE GRID - doctor celine, NITZER EBB - fun to be had, CYAN INC. - holocaust of love, LEAETHERSTRIP - happy pills, JORI HULKKONEN - errare machinale est, MORTICIANS - kindergarten.
---
SEKTOR IV - DIRECTO 02/10/2009
HEMOS VUELTO EL VIERNES 4 DE SEPTIEMBRE
EMPEZAMOS UNA NUEVA TEMPORADA
Temas de: LEAETHERSTRIP, AUTODAFEH, FRONT LINE ASSEMBLY, DISHARMONY, VIDEO, A SPLIT SECOND, INTERLACE, SIGNAL AOUT 42, AND ONE, P24, SOLITARY EXPERIMENTS, ROTERSAND, STEPHAN REMMLER (TRIO), STEINKIND, SEABOUND, INFORMATIK, XOTOX, NACHTMAHR, BLACK HEAVEN, GRAVEMACHINE, ASHBURY HEIGHTS, ETC.
NOVEDADES - AVANCE DE CONCIERTOS - NOTICIAS
---

DJ LINN - SESSION ONE
UN VIAJE ELECTRÓNICO POR EL TIEMPO...
playlist: D.Ö.F. – codo, ELEKTRIC MUSIC – tv (extended remix), THE SOHO DOLLS – 1724, CLIENT – rock and roll machine, NEW ORDER – angel dust, ULTRASONICS – go electro, MINISTRY – revenge, GRAFTON PRIMARY – relativity, DAKAR AND GRINSER – 25 reptile, APOPTYGMA BERZERK – shine on, NUN – vision of life, VISION – lucifer´s friends, OUT OF CONTROL – she wants revenge, THE NEON JUDGEMENT – tomorrow in the papers, DIE KRUPPS – der amboss, ZEITGEIST – tar heart, LADYTRON – evil (axl of evil mix), HEARTBREAK – we're back, NORTHERN KIND – pleasurely that machine, POLAROID KISS – white lies and white lines, CLICK CLICK – 15 minutes, DAS BIERBEBEN – kaputt, PLASTIC OPERATOR – the pleasure is mine.
Aprox. 94 min.
---
SEKTOR IV - DIRECTO 02/10/2009
En el último programa en directo hasta septiembre contactamos con: BLANKA & AITOR - KROMLECH SPKTRO FESTIVAL (VITORIA GASTEIZ), LED MANVILLE (MADRID) y OBLIQUE (BARCELONA)




Y UN REPASO A LA ACTUALIDAD MUSICAL... CON EL EQUIPO HABITUAL DEL PROGRAMA.

---

SYNTHI - POP SESSION 01
backlash - white noise, a spell inside - waiting, onetwo - sequential, jan w. - kein ende, equatronic - shaky thing called love, lakeside x - sway, camouflage - motif sky, antiles - you and me, laudanum - breaking down, raindancer - my sweet pain, gradual hate - moments of death (old gh version), a blue ocean dream - do you remember?, sara noxx - heart in the snow, perfidous words - talking to myself, and one - paddy is my dj, rupesh cartel - fools gold, elegant machinery - flag of truce, distain - you mean everything, welle erdball - die roboter, red flag - halo, metallspuerhunde - wo gehst du hin, information society - back in the day, melotron - wohin (willst du gehen), channel east - insignificant, peter heppner - suddenly, silica gel - yo no soy un robot, words of kraftwerk... aprox. 102min. selected by Obrero Mutante -mixed by SEKTOR IV
17/07/2009 SYNTHI POP SESSION 01

---
SEKTOR IV - DIRECTO 10/07/2009
ENTRE OTROS:

MOMENTS OF DEATH - lo nuevo de: GRADUAL HATE
CONTACTAMOS CON: DANIEL CORS de EBMusik.es - Burgos: segundo número del magazine especializado E.B.M.usik

Y

temas de VNV NATION, BACKLASH, MENSCHDEFEKT, FROZEN PLASMA, AND ONE, PORTION CONTROL, ETC...
directo 10/07/2009

---

LED MANVILLE LIVE IN MÉXICO - DARK RAVE 09 (emitido: 03/07/2009)


GRABACIÓN EN DIRECTO DE UNA SESIÓN DE LED MANVILLE EL 13/06/2009 EN MEXICO D.F. (aprox. 145min.) (si quieres una copia de ésta sesión, ponte en contacto con Led Manville a través de su WEB)
---

RE:COVERED DEPECHE MODE MIX by

extracted, selected and mixed by SEKTOR IV
PLAYLIST: TECHNOIR - lie to me, AYRIA - in your room, REGENERATOR - precious, STAR INDUSTRY - enjoy the silence, LEAETHER STRIP - blasphemous rumours (black edit), MIND:STATE - stories of old, SEIZE - shake the disease, DUNKELWERK - any second now, NEIKKA RPM - boys say go, VIRGINS OR PIGEONS - people are people, IMPLANT - nothing is impossible, 32 CRASH - get the balance right, DIFFUSION - sacred, KOMOR KOMMANDO FEAT. LEAN-LUC DE MEYER - john the revelator, KLUTAE - new dress, TAMTRUM - personal jesus, NEBULA-H - photographic, LEAETHER STRIP - black celebration (white edit), I:SCINTILLA - i want it all.
RE:COVERED D.M. MIX

---
SEKTOR IV - DIRECTO 29/05/2009
DIRECTO EMITIDO EL 19/06/2009 - DESCUBRIMOS COMO SUENAN:
32crash, ayria, dunkelwerk, implant, klutae, krystal system, leaetherstrip, ovni, plastic noise experience, etc... VERSIONANDO A DEPECHE MODE! SORPRENDENTE!

ESTRENAMOS TEMA Y VIDEO:
ANISOTROPY (PS-GIRL)
Presentamos otro de esos buenos tema electrónicos, con los que nos sorprende PS-GIRL.
---
DISORDERED MIX 2008
Selección: PS-Girl, Obrero Mutante, Nauj & sEktOr4 - Mix: sEktOr4
PLAYLIST (aprox. 120 min.):
Noisex - Das ist Elektro, Solar Fake - Creep, The secret meeting - Blacker than blue, Sara Noxx - Embraces (Deja Vü), Hocico - The shape of things to come, OTX - Air Fighters, Die Form - BWV 1031, Isis Signum - Herzensbrecher (feat. Sara Noxx), Bubblyfish - It´s more fun to compute, Elegant Machinery - Feel the silence, Acylum - Glock 17 (Winardtage Remix), Jelle - Je veux te voir, Cold Sequence - Variaciones, Retractor - Victims of flesh, Miss Kittin - Pollution of the mind, XP8 - Eklypse, Rasputeen - Das Lied vom Oberförster, Vive la fête - La route (Black strobe mix), Hong Kong Counterfeit - Television man, Davantage - Vf-07, Soft Cell - Tainted Love (RB338 mix), Sara Noxx & Project Pitchfork - Earth Song (Tanzwut remix), Din A Tod - Ephedrine Logic, Ming and Ping - Code, Vitalic - Repair machines, Alter De Ruine - Elevator noise, Comando Suzie - Selectores y Disc Jockeys.
---
UNA VISIÓN ACTUAL DE "NUEVOS VALORES" Y "ANTIGUAS GLORIAS"
(selected & mixed by sEktOr4)
playlist (aprox 85 min.): YENDRI - the love cats (the cure cover), NORTHERN KIND - electric to me, NECESSARY RESPONSE - this distance, SARA NOXX - berlin at night, FINAL SELECTION - the travelling man, I AMX - the great shipwreck of life, ABSOLUTE BODY CONTROL - figures (new version), ANNE CLARK prayer before birth (underwaterpilots remix), COMBICHRIST - cant change the beat (assemblage 23 remix), OBLIQUE - over, SPLATTERPUNK - my neurosis, MOTOR - flashback, FROZEN PLASMA - tanz die revolution, UMO DETIC - fahrenheit, SOLITARY EXPERIMENTS - immortal (sebastian komor mix), FUNKER VOGT - cold war, TOPGUN - eine kleine nachtmuzik, STUDIO-X - body music, DIARY OF DREAMS - the wedding, IMPLANT - we are noise (the horrorist remix).
---
SEKTOR IV - DIRECTO 29/05/2009
novedades, conciertos, noticias, música, invitados...
CONTACTAMOS CON LED MANVILLE & OBLIQUE
EN EL ESTUDIO: PS-GIRL, DAVID RAMOS & LINE
presentamos en exclusiva los temas: DIRTY TOY & LEGACY (LINE) - QUESTIONS (PS-GIRL)
...en el estudio, el equipo habitual del programa...
enlaces: LED MANVILLE - OBLIQUE - LINE - PS-GIRL - DAVID RAMOS
---
---
---
---
---